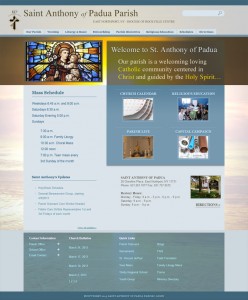 The Saint Anthony's of Padua site had been living up to its functions of posting important news, but was long overdue for an overhaul that would allow site admins a much easier way to edit site content for the church, as well as provide a more attractive and updated look for the content.
We started with a round of dedicated graphic design, in order to arrive at a fine tuned version of exactly the look, feel, colors and layout the church had in mind for the site redesign.
Some important features for the church with this website development project, were to have quality slideshows and galleries that are easy to update and manage, a custom church bulletin area on the site, and to preserve the church's third-party calendar, which luckily offers an RSS feed format, so importing the calendar into the new WordPress website was straightforward.
One of the main benefits to this website redesign is that as a developer I was able to work with the client to find ways to creatively showcase (where called for), or tuck away (but make available subtly) alllll the plentiful church information, educational materials and resources, campaigns, their various programs and schedules –with this layout we were able to fit 'a little bit of everything'
It's always a joy to convert a static html site into a dynamic site driven by a powerful content management system like WordPress, for not only is the content easy to edit, but also the images, slideshows, videos and church location information. With a site like Saint Anthony's there's even more to love about this platform, as with a bustling community like this church, there are multiple site admins who can all more easily contribute to adding content of all kinds, which makes keeping a site engaging and fresh that much easier!
Previous to my work on this site there were some issues with scam malware and such, which contrary to warnings people hear about CMS platforms like WP, was easy to secure and harden with a few basic steps while installing WordPress –another improvement over the basic HTML pages with less secure forms that had been on the original static site.
With the migration to WordPress, we were able to enhance security, improve performance with a multi-module caching plugin, make adding content so much easier for all church employees, and provide a scalable web site as this thriving church's web presence.