PSD-to-WP-Theme with Theme Options and Dynamic Content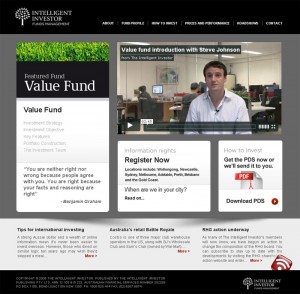 James provided a sleek PSD for www.iifunds.com.au which we turned into a custom WP theme with several options for easily updating the special content areas of the site. This project is also a good example of using plugins to expand upon the already flexible capabilities of WordPress.
For example, the NAVT Lists plugin is an awesome tool for creating custom navigation areas so that clients are not limited to even certain pages or custom meta keys, but can create menus from any WP item (post,page,category,archive) or external link. For this theme, we're using NAVT widgets for the top navigation as well as the left sidebar navigation.
The main video is displayed with a video widget. The admin can now easily change the video by changing the video ID#, or switch to random mode and add video ID#s.
The random quote area is another widget area, populated with the widget generated by the Stray Random Quotes plugin. The three excerpted articles along the bottom are set as a feed URL via theme option, as well as the category ID# which the 2nd column (below vid) should use to generate the content (cat description, title and excerpt of latest post in that cat). Additionally, we used the CForms plugin to collect information from those who are interested in downloading a file. The protected download file can be set on the theme options page.
Overall this was a very fun project with several opportunities to take advantage of some great WP functionality and expand upon it with plugins. I'll definitely be using the NAVT plugin on more projects in the future. James was very accommodating, allowing me to try out these solutions on his sites, in addition to providing such clear specs and communication. -we've worked on a few projects now and I look forward to working on more.
Testimonial
I worked with Erin to develop a WordPress blog from a PSD that had already been designed. She provided an excellent scope of work, a reasonable fixed price quotation which she stuck to.
She completed the work very quickly and helped us in a number of other ways in the meantime with issues that we were having with our other WordPress blogs. She also provided a full readme document about how to use the website. I highly recommend her and we'll certainly be using her again in the future.
She was a pleasure to work with.