Established Static HTML Site Migrated to WordPress and Updated with a Custom Theme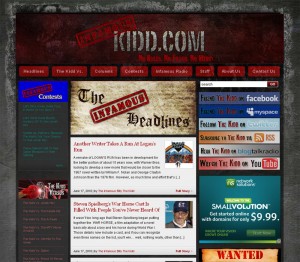 Billy over at InfamousKidd.com has been running a popular movie related site for a few years, and wanted to take advantage of the great CMS capabilities of WordPress. With a very regular publishing schedule and loyal followers, switching his site to WP made his job organizing and publishing content much more convenient, not to mention the expanded functionality we were able to incorporate, using plugins and some custom coding.
Another thing lacking in the old site was there being no way to easily edit the templates or layout, to add advertising or other features. With WordPress (and all WP themes we design), widgetized sidebars make adding any functionality or content a piece of cake.
Of all the different types of sites out there, I can't think of a better candidate for getting huge results out of switching from a static site to a dynamic CMS than Billy's site, because he has so many followers and so many interactive elements to his site plan and vision for continued development. For example, with WP it was easy to add plugins for reader polls and a polls archive, random quotes, and of course all the social sharing doodads (Facebook updates shown on-site, as well as bookmarking options for all the popular social networking sites) that help his fans network and communicate with each other.
TestimonialI wish I had the chance to give Erin and Interstice Solutions my glowing recommendation earlier, but, after all of her hard work in making sure that our site was exactly how we wanted it, right down to the finest detail, business has been absolutely booming. I'm lucky I'm able to take a few minutes away now in order to explain how happy we were with Erin's work, because the final product was something we absolutely love, and, even better… those who visit our site love it, too.After talking with Erin and exchanging ideas back and forth, I know she was the perfect fit for what we wanted after interviewing several other designers. She got right to work, and, before we knew it, the site was shaping up o be what we desired. Erin is an absolute perfectionist, and works her hardest to make sure you are pleased with how everything looks, how it operates, and how it functions, right down to your specifications. She knows exactly what type of vision you have for what you want, and does everything she can to make it happen, even offering up some of her own suggestions that help improve the quality of the site.
Our goal was to have something user-friendly but also operator-friendly, and Erin got that done for us. She gave us constant updates as to the progress of the site, making sure we were happy with the work that had been done thus far, so that there always was a fluidity to the site construction. We always knew what was being done, and could make decisions moving forward based on what we could see.
There is no doubt in my mind that Interstice Solutions was the best choice I could have made on behalf of our site, and it was completely affordable, when compared to some of the quotes we received from other designers. They always say that you get what you pay for. In the case of Erin and Interstice Solutions, we got exactly that. We got someone who cared about our vision and who worked with us on a personal 1-on-1 level to get it there.
We don't regard Erin as someone we hired… we now refer to her as "our designer." That's how happy we are with all of her hard work and dedication, and how comfortable I would be using her for projects in the future.