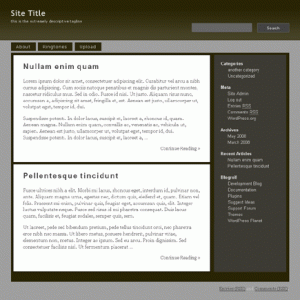 This all-CSS WordPress theme is completely customizable. From the theme options page you can add your own colors for a totally unique looking theme.
Widget-Ready
This theme is also widget-ready and comes with 2 widget areas. The Sidebar widget area works as a normal widget area, replacing the default code with the widgets you choose. The Home (top) widget area is for adding widgets to the top of the sidebar only on the homepage. For example, if you want your own custom message at the top of the sidebar on your homepage you could add a text widget to this widget area.
Also, the main text input areas have font family options to choose from. Since the theme options are many, you can use the image below to help identify which areas match the fields on the theme options page.
This free version of the Brownscale WordPress theme contains a credit to us. You are not allowed to remove this credit unless you purchase a license. Upon purchasing a license you will be sent another version of the theme that has a theme option for hiding the credit.
Help with Choosing Colors
Inputting your own colors allows you to completely alter the look of this theme from within the admin panel. If you do not already have some color codes in mind, you should use a paint or image editing program to help you decide which colors to use. Or you can use some type of color picker program like the Color Zilla add-on for Firefox browsers which lets you easily grab the hexadecimal codes from your browser screen and save custom color palettes. A non-browser solution would be something like Color Coder 2.
Help with Theme Options
Click on the image below for an interactive guide designed to help identify which theme options affect
which areas of the theme. It may take a few minutes for the page to load. Please be patient.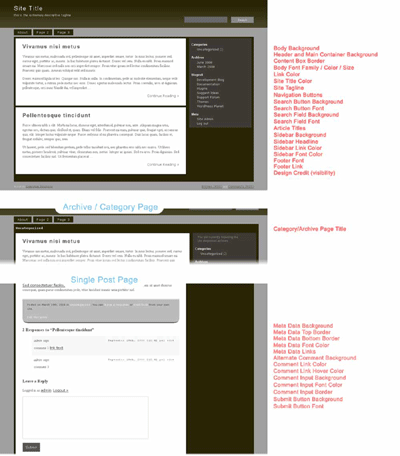 (click to enlarge and use interactive version. Allow a few minutes for it to load)
Excerpts
This theme comes ready to use The Excerpt Reloaded plugin. If you install the plugin the excerpts will look better, but this is not necessary. To change the excerpt length open the index.php and archive.php files. Search for 'the_excerpt_reloaded' and change the first value. This is the number of words that will appear.
Download Brownscale

Brownscale.zip
To remove the design credit you must purchase the premium version of the theme here. Once you've installed the premium version of the theme, go to the Theme Options page and select hidden next to design credit.