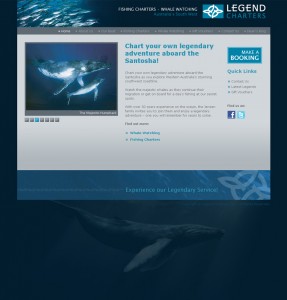 This project was a lot of fun to work on with all the great high resolution photos. The theme was kept very lightweight, while offering the latest in super smooth slide show of the latest Legend Charters images, as well as easy access to their social networks and direct contact form.
The combination of great WP plugins, clean coding and Legend's beautiful images makes the site really stand out from the competitors. Even better, all the dynamic content is so easy to update, keeping visitors coming back to see the next charter images!
Testimonial
Erin was a pleasure to work with, good communication skills, prompt and professional. I look forward to working with her on future projects.
D. Binks