Moxy Digital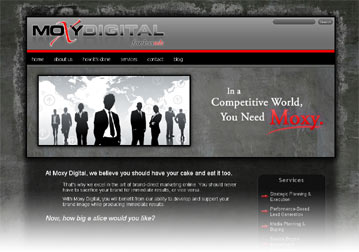 Candise already had a site design she liked, but wanted to add a matching blog section. I explained that converting her whole site to WordPress would be worth the relatively small amount of work/cost, so we converted her static HTML to PHP in a WordPress theme and added a blog page template where all her posts appear.
We did some graphic design work to add header graphics on her main static pages and reworked some of the original web graphics to accommodate longer WordPress blog pages and added some sidebar and list styling. We also did some blog setup of additional plugins. For example, Candise also wanted her contact form switched to a WordPress plugin so she could easily change the form fields and other settings, and she wanted to show her latest Twitter Tweets on her sidebar. (as of June 2010: the owner of Moxydigital.com has apparently taken down the site.)
Testimonial
Interstice Solutions has been a fantastic partner to work with. They are knowledgeable, deadline oriented and give stellar customer service. I will recommend Interstice to all my colleagues in need of fast, accurate and professional web design services.
Candise Miller